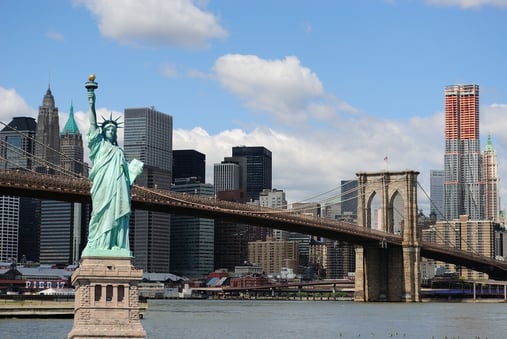 Our company recently had its Back-to-School Training over the course of three days culminating on 9/11. On that day, we had planned a huge Teambuilding scavenger hunt for 120 people throughout midtown where everyone was charged with creating a group video using a nearby landmark. Soon after groups of people took off in various directions, we started receiving reports that they were encountering some problems. Our staff was being confronted by security staff and police in all the different places. In the spirit of community and connectivity we were trying to foster amidst our company, we had a momentarily lapse about 9/11, a date that holds meaning for so many people in so many different ways.
One of our Leadership Trainers came back from the scavenger hunt and said, "Lesson learned… don't try to film a monument on 9/11." Is that really the lesson learned? Our group was out in NYC filming 1-minute videos expressing their core values, with each one of them full of song, laughter, love, theatrics, and joy. Through their acts, they were creating and spreading happiness, perhaps even re-defining a minute of such a significant day. Was the lesson learned really that we can re-define a moment, even for just a second, to create space for new meaning to fill it? On that day I was so reminded about how we tend to define things, events, people, and places in such a fixed and definite way, despite the fact that I know that time is fluid and history is all in who remembers it. Sometimes a moment can be open and closed, defined or up for interpretation.
I find myself dealing with this dualism all the time as I teach, and learn, language with my daughter. I am bilingual and am trying to make sure that my daughter inherits my native tongue. We have been practicing the basics such as her name. So I ask her "Sino ikaw/Who are you?" She responds, "Ako si Raya!/I am Raya!" In teaching a child, repetition is key, right? So I ask her again "Sino ikaw/Who are you?" She responds with a smile "Ako si mommy." Ok, once more, "Sino ikaw?" Still smiling, "Ako si Daddy!" Ok, last time, hoping she'll get it right, "Sino ikaw?". Smiling even bigger, "Ako si Sampa(our dog)!"
Fully inclined to correct her, I asked myself what's the lesson to learn here. Isn't my daughter showing me a deeper wisdom? When I am trying to teach her the I versus you, versus he and she, she is teaching me the universal us. She is Raya… and she is mommy, and daddy, and Sampa and everyone else she named in her life. She redefined the boundaries of a person, while reinforcing the greater message of how we can define moments in life.
To add your light to this world at Lincoln Center this weekend, look at http://www.bealightforpeace.org
For more resources on defining 9/11, go to http://www.911memorial.org/sites/all/files/TalkingToChildren_FINAL4.pdf
To understand how our world is changing in other ways, take a look at http://ligoranoreese.net/dawn-of-the-anthropocene/ and http://peoplesclimate.org/events/
To see how Leadership Trainers re-defined monuments, look at some videos on facebook.com/theleadershipprogram