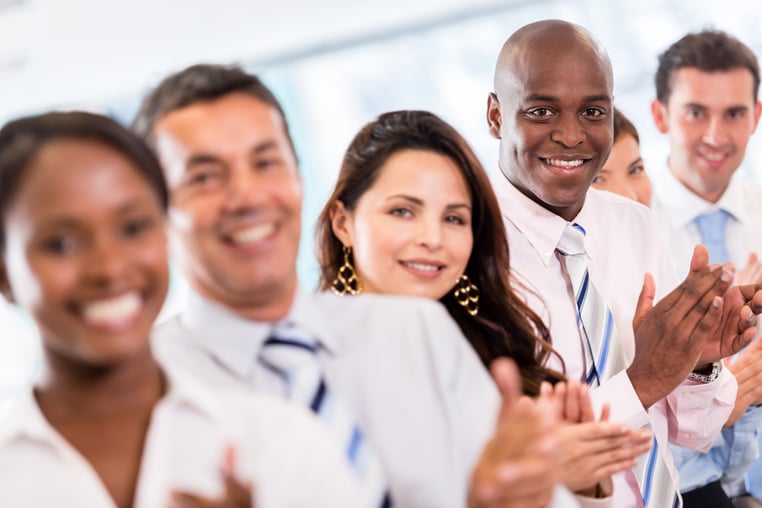 Celebrate Success
At Leadership, one of our core values is: "Respond to Challenges, Celebrate Successes." This is a reminder that while it is obviously important to respond quickly to any challenges that arise, addressing them head-on, it is equally important to celebrate the successes that come up: otherwise, they can easily get overlooked or left behind, particularly during stressful times. This is especially true for "minor" successes, the minor daily things that might seem like "nothing" but that ultimately add up to everything. The active celebration of those little things creates a positive culture of compassion and awareness, leading to a connected team, and a connected team is a productive team (which leads to more successes… see what happens there?).
What kind of successes am I talking about? It truly can be anything—a sale successfully closed, a positive phone call with a client, a new product or program launched, a creative idea, a well-crafted presentation, the organization of an effective internal training—you name it! Did you or someone in your organization do something/think of something/help something/say something that moves your business forward, even if just by a nudge? Celebrate it!
How can you celebrate these successes? Well, that can truly be anything too, big or small. Depending on budget and staff size, you can incorporate a variety of methods of celebration: an email, an announcement over the loudspeaker, a wall of fame, a trophy that gets passed from desk to desk, a sticker, a medal, a gift card to a local store or restaurant, a gift of PTO, flowers, lunch catered in, a letter of appreciation, a favorite snack or beverage, an invitation to attend a conference or training of interest—anything that makes the person or team feel heard and appreciated.
To think about how easy it should be to celebrate small successes at work, think about well you are celebrating the rest of your life, too, especially the not-so-momentous occasions. There too, celebrations don't always have to be splashy and include cake (although a random cake on a Tuesday is never a bad thing), and those celebrations can inspire the celebration you bring to work. Celebration can look like the clinking toast of your morning coffee mugs and a hearty "hello" to the day ahead. Celebration can be a tradition of "Taco Tuesdays." Celebration can mean a trip to the ice cream shop to celebrate the end of another week successfully, well, just gotten through. Celebration can be putting on lipstick for no reason at all. Celebration can be cuddling with your loved ones on the couch and watching TV together. Celebration can be unexpected flowers to brighten someone's day. Celebration can be the words of love and gratitude coming out of your mouth. Celebration can be a hug. Celebration can come from saying YES to dessert before dinner. Celebration can be making the choice to step outside and feel the warm sun rather than stay shuttered inside with your thoughts. There are opportunities for celebration everywhere, every day. To me, celebration can be as simple (and hard) as saying YES and THANK YOU to this life, to this day, to this precise moment.
So your challenge, for this day, is to look for opportunities for celebrating successes, no matter how small they may be… because, remember, the small things really do add up to everything.
How do you celebrate success at your company? Where do you find it difficult? Share your challenges and successes in the comments below: we'd love to help troubleshoot the former and further celebrate the latter!
"Celebrate Success: Creating a Culture of Compassion and Awareness", The Leadership Program, Inc. 2016