In the classroom, we need to offer students opportunities to think and reflect on their experiences and emotions. Self-Awareness is the foundation that will help students succeed in their endeavors.
According to the Collaborative for Academic, Social, and Emotional Learning (CASEL), Self-Awareness is the ability to understand one's own emotions, thoughts, and values and how they influence behavior across contexts.
As instructors, we guide students to recognize their strengths and limitations, help build and reinforce their self-confidence, and promote a growth mindset. Essentially, we want students to better understand themselves as they continue to learn, grow, and navigate through the complexities of life.
One of the best ways to assess where students are is by checking in with them before jumping into a lesson. There are so many ways you can build check ins to your lesson plan. Here are some of our favorites:
Check In Scale
Draw a horizontal line on paper and write out the numbers 1 - 5. Under the number 1, write out "Not well", under the number 3, write out "So-So", and under the number 5, write out "Great".
At the start of class, instruct students to take a sticky note and write their names on the sticky side. Invite students to place their sticky note on the scale next to the number that reflects how they are currently feeling while maintaining students' anonymity. You will get a quick temperature check on how the class is doing as a whole and can follow up with students one on one who self-reported "Not well".
Once students have built strong rapport with each other in class, you can invite students to put their name on the non-sticky side of the sticky note.
Emotion Wheel
Sometimes students have a hard time identifying what they are feeling in the moment. You can print out an Emotion Wheel (or create your own!) and post it in your classroom. You can use it as a reference to help students identify the emotion they are feeling and what caused them to feel like that.
For example, one of our student's created her own mood wheel in her art class with Leadership Trainer Zoey Hart.
"S. was feeling grumpy when she walked up to the art table. After our quick project, she described her feeling as 'cool calm blue,' as seen on her mood-wheel."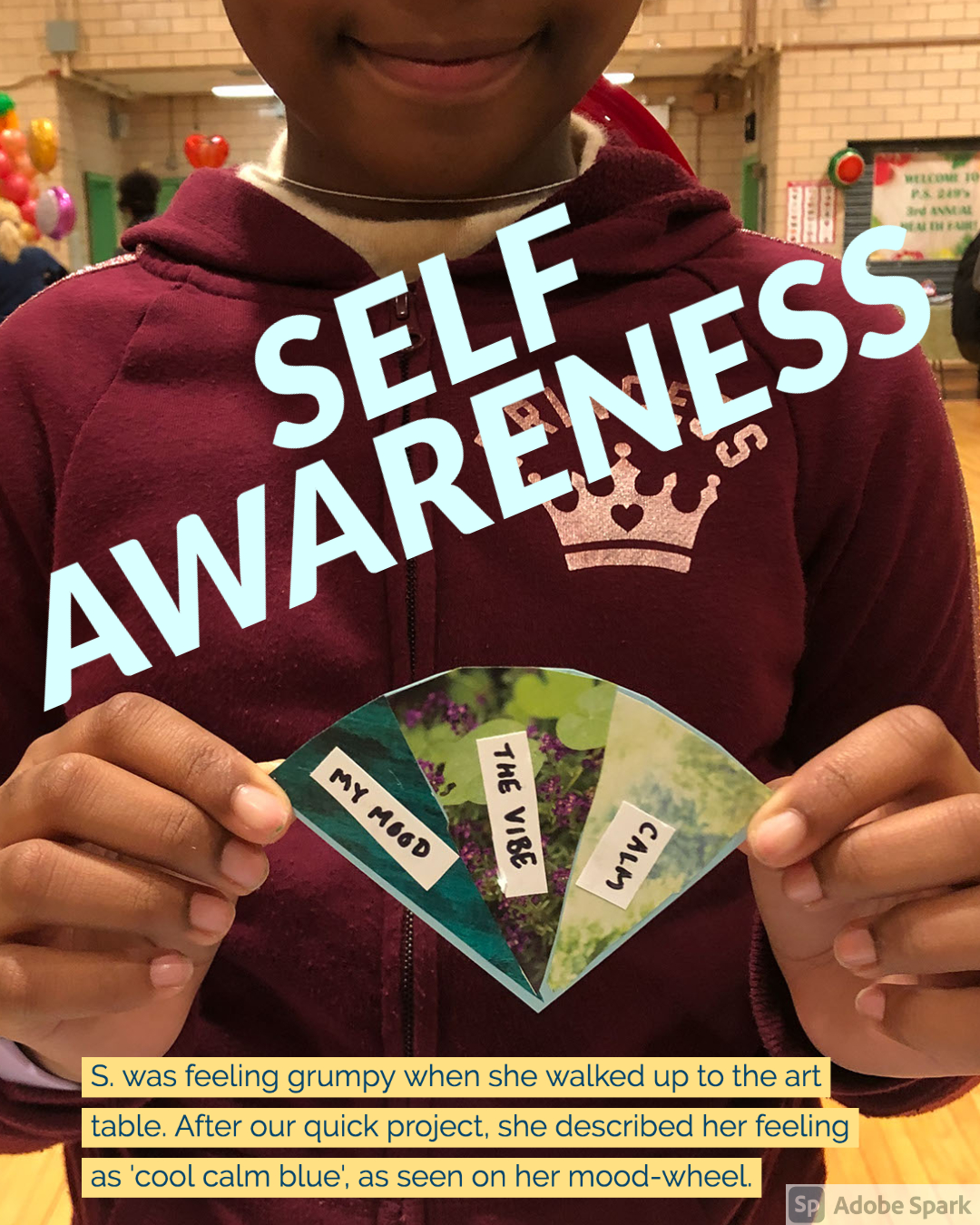 Did you see how S.:
Identified her emotions

Demonstrated honesty and integrity

Displayed a growth mindset
We can continue to empower our students by giving them the tools, language, and opportunity for them to build up their own Self-Awareness.