How aware are you of your "unique self"? It's in there, and Erika wants you to get in touch with it.
When given any satisfactory stretch of smooth surface ahead of him, my son Dylan (who is 4) is practically guaranteed to break out in a run that ends with a spectacular slide on his knees.
Even in the middle of a basketball game.
[KGVID]http://tlpnyc.com/wp-content/uploads/2016/02/Dylan-slide.mov[/KGVID]
This is currently one of my #everydayjoys about him. I mean, why simply show up at your destination, when you can slide in?
It is one of the signature moves that make him Dylan: the spectacular make up of gestures and isms and sayings that weave together to make him the One Unique Dylan Petrelli—an original, a shining star.
On Sunday he developed flu-like symptoms. It swept in unexpectedly and wiped him off of his feet. Fever and chills and fatigue had him lying in bed or on the couch for hours at a stretch, barely able to stay awake. It's unsettling, to see him this way. To see him most definitely NOT his One Unique Dylan Petrelli self, a self that is a bundle of joy and energy, a self that skips and sings and laughs and demands and plays and thinks and questions from the moment he wakes to the moment he sleeps.
It got me thinking how often life does this to us, not just the flu for a four-year old boy.
How often does adolescence or a bad relationship or an unfamiliar surrounding or social pressures or relentless messaging from media cause us to pack away that thing—that light that makes us our One Unique Selves? How often do we hide that thing because our thing doesn't quite fit the formula of how we are supposed to look or act or be? How often do we beat that thing into submission, telling it to conform to the norm?
When in truth:
Our tucking our true Unique Selves away is just like Dylan being felled by the flu. His light is dim right now; his radiant spirit quiet. And I miss him, and it. The world is not as sparkly without his spirited self bouncing around in it.
As it is for you (and for all of us). When our light is dim, the world is worse off because of it. When we hide our Unique Selves from the world, we are doing the world a great disservice. I mean, think of all the spectacular people you know. The radiant ones. The luminous ones. The ones you can't quite take your eyes off of. They have some kind of something that is all their own, don't they? Something that doesn't quite match a mold, something that dances to its own beat.
We all have something like that inside of us. If you don't know what yours is, chances are it's just been tucked away so long you've forgotten all about it.
So, back to Dylan's slide. I remember the first time I saw this quote from Hunter S. Thompson: "Life should not be a journey to the grave with the intention of arriving safely in a pretty and well preserved body, but rather to skid in broadside in a cloud of smoke, thoroughly used up, totally worn out, and loudly proclaiming "Wow! What a Ride!" It was one of those "hell, yeah!" moments for me, and I've remembered it again recently while watching Dylan sliding his way through life. My hope is that he never loses that life spirit, that uniqueness that makes him him and the world so much luckier because of it.
What's the Unique Self that you can slide back into your life?
Tell me about your Unique Self in the comments below or tweet me @ErikaPetrelli1.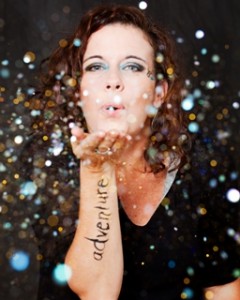 Interested in having Erika's blog come directly to your e-mail each Tuesday? Have comments to share? E-mail her at erika@tlpnyc.com. Find all her previous blog posts at www.tlpnyc.com/author/erika
"Sliding In: Recognizing Your Unique Self", The Leadership Program, Inc. 2016