My daughter recently saw NBC's airing of "Peter Pan Live" and has since become obsessed with creating her own staging of the play, in our house, with her in the lead role of Peter Pan. She's even set a date for it and has started to create invitations.
Now, the most important element of this production in Marlowe's mind is the fact that Peter Pan actually flies. So far, she's getting pretty irritated with the fact that her initial attempts with pipe cleaners and duct tape just haven't worked to hold her up, and more irritated that we haven't come up with a pulley system suspended from the ceiling that would offer her flight. She's studied the "Making of Peter Pan Live" so carefully that yesterday she deduced that her flying problems would be solved if I just ran out and got her some wire—her latest flight idea consists of having her dad stand from a ladder and hold her dangling off it with the wire, pushing her back and forth, all the while not being seen on the "camera" (because of course she wants to post this as a video on YouTube).
Meanwhile, while the puzzle of flight remains unsolved, she's turned our dining room table into her design studio, crafting paper "lollipop trees" and making her Peter Pan costume by tearing up some of my old t-shirts (her first attempt, made out of green and brown construction paper was a no-go; she deduced it was too uncomfortable and reminded her too much of a Teenage Mutant Ninja Turtle). She's cast her younger brother Dylan in the role of young "Michael" (and possibly also Mr. Smee) and my poor hubby has to somehow figure out to simultaneously be Captain Hook and the Tic Toc Croc and Mr. Darling (while also dangling her from a ladder, of course). A neighbor friend is going to be Wendy. I have had the good fortune of only being given "behind the scenes" assignments at this point, while Marlowe, in addition to playing Peter Pan, has given herself the role of Tiger Lily and Wendy's mom. She's debating over who to cast as some of the other characters, including mermaids from Mermaid Lagoon, and repeatedly dismisses my gentle suggestion that maybe we don't need a full cast for this production.
I love this.
I love that she's written out the song list on a clipboard and holds it up in front of her brother to sing along to, even though he can't read and the lyrics to the songs aren't actually on there. I love that she is practicing the opening sequence as Wendy's mother singing "Tender Shepard" about twenty times a day. I love that all of us (including Dylan) are walking around the house randomly breaking into "I won't grow up! (I won't grow up) I don't wanna go to school! (I don't wanna go to school) Just to learn to be a parrot (just to learn to be a parrot) and recite a silly rule!" I love that she believes from the bottom of her heart that this production will rival NBC's and that indeed we will figure out a way to get her airborne. I love that she has a shopping list for me that includes wire, a wig, and some feathers.
Right now she has a perfect combination of wonder and determination, coupled with an unshakable confidence in her artistic and technical abilities. It's beautiful to watch, and so infectious it makes me actually want to find a way to get her to fly. Her imagination is fierce and her creativity is fueled by that ferocity, and much like the magical world of Neverland itself, that is something that I don't ever want to see "grow up."
Because as she herself grows up, she may learn that sometimes, despite your best efforts, gravity just wins out; and sometimes, the vision in your head simply far surpasses what reality will allow—and as she realizes those things she may begin to wonder whether it's even worth it to try, whether you should even bother to dream. And in those moments I hope she remembers the encouragement of Peter Pan that with a little "faith, trust, and pixie dust" amazing things can happen. And I hope that feeling of magic, of possibilities—what she feels so strongly right now—will win over those doubts, and she will once again find herself singing "I WON'T grow up!..." as she sets her sights on her next adventure.
With faith and trust (and maybe just the tiniest smidge of pixie dust), what part of yourself can you refuse to "grow up"?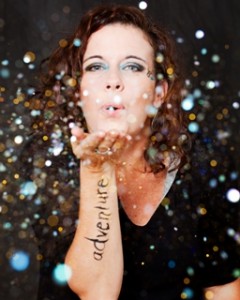 Interested in having Erika's blog come directly to your e-mail each Tuesday? Have comments to share? E-mail her at erika@tlpnyc.com. Find all her previous blog posts at www.tlpnyc.com/author/erika