Last week my daughter "taught" in my son's pre-school class.
She had the idea a few weeks back, asking me if his teachers might let her teach the students a lesson, perhaps on colors or the alphabet, on a day when she wasn't in school. His teachers graciously agreed, and we realized that last Friday provided the perfect opportunity as she was on fall break.
I had just returned from a trip to New York the night before, and I wondered if she would even remember, because we hadn't really talked about it… but sure enough she started the moment she saw me; her ideas about what she might want to do, her thoughts about how the students would behave. She said repeatedly "I am so excited." And, the morning of, from the moment she opened her eyes, she began carefully planning: thinking through her outfit and her activities with equal gusto.
She had declared that I was to remain outside of the classroom, so watching from the window, I saw her stand in front of a dozen two year olds, and then I saw the terror of the actual moment begin to take hold of her. She barely mumbled a word as she slowly flipped through a notebook that she created for them. After a few minutes, she started relaxing and warming up, so that when it was time for the "alphabet scavenger hunt" she had planned I could see her clearly enjoying herself… yet when it came time for her final activity, a song, she couldn't do it—too scared to "take the stage."
This had happened previously at her 5th birthday party—a rock star party, at her request, where she planned for weeks to be the lead singer in a concert that she and her friends would put on—singing with passion at the top of her lungs, dancing with abandon. But, on the day of the party, she found comfort in the back of the band, skulking somewhere near the drums, never willing to share her beautiful voice with the onlookers; never fully embracing her inner rock star.
We are simply unstoppable in our imaginations, aren't we? We are talented, in charge, clever, brilliant. We own the room. Our shower speeches and car singing… well, there is just nothing better.
But fear is powerful, and our renderings of how we will behave in any given situation are much harder to execute in reality than in our minds.
I wish that wasn't true. I wish the confident, sassy Marlowe that marched around the room as a teacher in our living room didn't shrink under the glare of an actual audience. I wish the confidence I imagine I will have during a difficult conversation didn't wither away under the glare of an actual person waiting to hear what I have to say. I wish we could all channel our inner rock stars.
I'm trying to think of how to help Marlowe carry her courage out into the world. I'm also trying to think of how to help myself do the same. It seems to me that maybe the secret can be found somewhere in finding a way to focus more on the opportunity—to teach, to sing, to speak—and less on the "what ifs"— letting go of our fears of being judged or messing up. And of course, simply remembering to have fun.
How can you showcase your inner rock star today, no matter how scary it feels?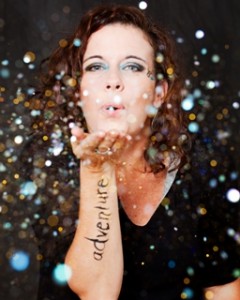 Interested in having Erika's blog come directly to your e-mail each Tuesday? Have comments to share? E-mail her at erika@tlpnyc.com.