We've just come off of a splendid two-week holiday break. We didn't travel; instead we just stayed home and enjoyed a revolving door of family and friends, an endless supply of snacks and baked goods, and hours upon hours to play with the many new toys bestowed upon the lucky little ones this festive season. Bedtimes and wake-up times were largely negotiable.
And then came yesterday.
The first day back to work, back to school, back to routine. And oh it was a harsh morning indeed. The alarm clock, with its hateful chirps, pushed us into the day before we were ready. (And, just to be spiteful, Mother Nature greeted our return to the hustle and bustle with morning temps of 5 degrees, followed by a nighttime snowfall that has left seven inches of snow on the frozen ground this morning). Dylan was the only joyful one among us, as he was to get one final play day with his beloved Uncle Jon while the rest of us begrudgingly headed toward our computers and classrooms. My husband's car handle literally broke off in his hand as he tried to leave for work. If that's not the universe suggesting you just bag it in for the day, I don't know what is.
As I sat at my desk blinking at the computer, it occurred to me that I might have actually forgotten how to work. I started with the obvious—my dreadfully neglected inbox. From there I followed every random thread of thought or conversation chain that came my way, haplessly starting and stopping at least a dozen projects. At one point I stopped in the middle of a very important task to redo my bulletin board. Because you know, priorities. The piles at my desk that I had planned to shrink as part of my return to work instead mysteriously grew larger as the day wore on. All the while I had one ear on the weather forecast, trying to predict a forecast of my own—would school be delayed today or not? And if so, what alternate morning arrangements needed to be made? (As it turns out, school was delayed today, a disruption in the routine before the routine even had a chance to become... well, routine.)
But as clunky and clumsy as the day was, of course there's this:
How lucky are we to have had the day? How blessed to welcome in another year?
I didn't start it off perfectly, not by a stretch—the hateful alarm that chirped at me yesterday had actually tried to chirp at me an hour earlier (because of course of my resolve to get up early and spend time being actively grateful and peaceful and all that). Instead I shut that hateful chirp off straight away and rolled over for another blessed hour. And then I forgot to brush Dylan's hair and I think I forgot to pack a drink in Marlowe's lunch. I didn't remember that we were almost out of toilet paper until after the snow had started falling. And despite my best efforts, my inbox at the end of the day was still woefully neglected.
But no matter. 2015 is not about being perfect (thank God for that, or I would be sunk already), and yesterday was certainly an ample demonstration of that. 2015, for me, is about being present. It's about laughing and loving and showing up and trying all over again. I'm just so happy to have had yesterday, and so happy to have today. I am acutely aware of many that were not granted that gift, and their loved ones that are facing a year very, very different than the one they might have imagined. So how dare I be anything but grateful for the hateful alarm clock, the (breathtaking) tumbling snow, the teetering piles, and every other part of this beautiful, beautiful thing called life?
As Walt Whitman said, "Happiness not in another place but this place. Not for another hour, but this hour."
Where can you find happiness today?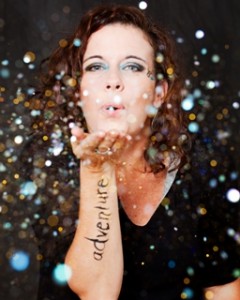 Interested in having Erika's blog come directly to your e-mail each Tuesday? Have comments to share? E-mail her at erika@tlpnyc.com. Find all her previous blog posts at www.tlpnyc.com/author/erika