I had the honor of traveling to Utah last week for the Utah Afterschool Network's fall conference. My travels home on Saturday proved to be...well, lesson-worthy.
I left my hotel in Ogden, UT, at 4:15 in the morning to make the 40-minute drive to Salt Lake City, where I had an early flight that was taking me to Denver, which would then carry me the rest of the way home. The Salt Lake flight left on time, despite sleet and snow in the area, and the flight to Denver was only supposed to take an hour. Once in Denver I had a layover of just over an hour so I was planning to get breakfast and snacks to sustain me for the rest of the journey home once I got there. The day was starting off smooth and as expected.
Except.
Once we got into the Denver area our pilot informed us that there was a thick, low cloud cover resulting in zero visibility for landing, and so we were going to have to circle for awhile. We were on a small regional jet, two seats on each side and a tiny aisle in the middle, and my seat companion was a woman who slept soundly and loudly the entire trip and had spread herself and her coat well over into my side of things.
45 minutes later, the pilot let us know that we were running low on gas so were going to redirect to Colorado Springs to refuel before trying again to land in Denver. 15 minutes after that he came back on to tell us that Colorado Springs was too busy to accept us and we were going to fly to Cheyenne. Cheyenne, Wyoming. Wyoming!
All hope of making my connecting flight vanished.
In Cheyenne we refueled pretty quickly, but the weather in Denver worsened and so we waited. And of course since we were on a miniature airplane there were no snacks. My decision to wait to get to Denver for breakfast and snacks was starting to be regrettable.
While waiting on the plane in Cheyenne I scanned online to see what later flights might be available for me to get on once we finally made it to Denver. It didn't look good. It didn't even look like I would make it home that day at ALL, which was particularly stressful because I had tickets to take the kids to see Monster Truck Jam happening that night in Indianapolis.
Meanwhile my seatmate still slept. And spread out.
Finally, after an hour and a half, we got the all clear to try again in Denver.
And then: miracle! As we were getting ready to leave I got a text from United Airlines telling me that my flight from Denver, which was supposed to have left long before, had been delayed until noon. And we were set to get back to Denver between 11:15-11:30. There was a glimmer of hope!
We got to Denver without issue (and still my seatmate slept). We landed at 11:10. I was going to make it! I went on the United app to see what gate the plane was departing from...only to see that they had moved the departure time back UP to 11:30! I was not going to make it!
We departed down the stairs and across the tarmac, where we were spit out into a downstairs set of gates. The gate I needed wasn't among them. I started running... down the hall, up two flights of stairs, into the main terminal area. The gate I needed wasn't there. I kept running. The signs for the gate I needed took me down another set of two stairs and into another hallway. 11:30. It was 11:30. I'd like to have you imagine me as some sort of cross country beauty gliding across the airport but the truth is I'm totally out of shape and hadn't showered that morning, so as I flung myself around the corner to the gate to see if the doors were still open I was a bright red, sweating profusely, heaving heap of crazy.
The most wonderful sight I've ever seen met me: The boarding doors still open, a sign that said, Final Boarding, and a nice man that laughed when he saw me and said "Indianapolis?" I made it.
Who needs food anyway.
And I made it home in time for an evening of Monster Jam.
So, it was a crazy day. And I only share it with you in such absurd detail because at the end of it, I had this epiphany:
The thing is, it was just a day. It was only "crazy" because it didn't go as I expected and because I didn't plan for the unexpected.
I expected to fly from Salt Lake City to Denver, get food, get on another plane, fly from Denver home, have a few hours to shower/collect myself/etc., and go to Monster Jam. I wrote the story of that day in my head, from start to finish. In ink.
But life doesn't play by the stories we write in our heads, does it?
So instead of writing the ending, I should sketch out the outline, imagine some spin-off scenarios, pack snacks, and then let life play out the way it will. I think if I can do that, I'll be more present in each moment, ready for whatever and absorbing what is.
The next day I got this "story of the day" from artist/storyteller Brian Andreas: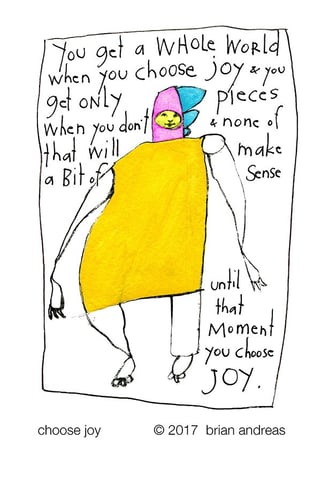 And I thought, well that's really it, isn't it. If I just choose joy and open my arms up to the whole world, then days like that won't be something to fight against. They'll be opportunities to spread out in. Much like my (potentially wise, as it happens) seatmate.
How can you choose joy when things don't go "as planned"?