I had a six-hour drive to and from Missouri last week, and to entertain myself during the solo trip I made a hearty road trip playlist that essentially spanned the entirety of my existence, making for some unlikely "bedmates."
Mumford and Sons played alongside Mazzy Star. Van Halen held company with Edie Brickell. Neneh Cherry sat side-by-side with Pearl Jam. Kings of Leon accompanied LL Cool J. Temple of the Dog co-mingled with Tori Amos. Skid Row and Peter Gabriel, U2 and The Gaslight Anthem, Regina Spektor and The Police… I could go on and on. (I did make about 18 hours' worth of songs, after all. I may have gotten a tad bit carried away. But I mean, why choose between Vanilla Ice and Bob Dylan when you can have both?)
I tell you, it was a trip. A magical musical mystery tour through the depths of my memory… from elementary school through high school; over to college and across to last week.
Does music do that to you? Take you down memory lane? I'm amazed at how a certain song can literally transport me to a specific moment. It's like I'm right there again. Look—there's me as a gangly 10- year old, re-enacting scenes from Rocky 3 in my bedroom! Oh, check out my gawky 12-year old self trying so hard to be cool with the swatch watches in my hair and the Cyndi Lauper on my boom box. Hey there 17-year old Erika, spoiler alert—Milli Vanilli is not really singing those songs. Ok, I get it, you're 20 and I know you feel like the grunge movement has somehow changed your life, but really, flannel is not your thing.
Bohemian Rhapsody will forever be inextricably linked to Wayne's World. Bobby Brown's My Perogative will still to this day cause my body to start into the totally pointless line dance that informed my high school dances. A slow Bryan Adams song will put a clench in my stomach as I remember the awkwardness of middle school crushes. The soundtrack to St. Elmo's Fire makes me feel all angsty and teenagery. More than once I've gotten some sideways stares from the occupants of the cars next to me as I realize I may be enjoying the Beastie Boys a little too fervently. One whiff of Hawaiian Tropic and suddenly I am laying out in the backyard with White Lion playing in my Walkman. I've had 8-tracks, 45s, cassette tapes, cassingles, CDs, and of course now an ever-growing iTunes library. iTunes makes making playlists easy, but I still smile at my collection of "mixed tapes," where the final songs on either side were inevitably cut off as the tape ran out.
Yes, music has definitely provided a soundtrack to my life. And, in the past seven years, it has also provided a soundtrack to my children's. And while Shake It Off might currently be the song that informs my six and three year olds, I still remember nightly dance parties with Marlowe as a baby where we stomped around to the Pogues, and I remember rocking Dylan to sleep to the sweet sounds of You Are My Sunshine. I remember when Dylan came home from preschool singing Lady Gaga's Edge of Glory at age two, and Marlowe spending weeks completely obsessed with The Star Spangled Banner.
Listening to these songs is more than just an enjoyable way to pass the time; it's an opportunity to reflect on the amazing multitude of moments that I call life. Music helps catalog people, places, feelings, and occasions. Music brings emotions solidly to the surface, and chief among them is joy.
You'll have to excuse me now… Uptown Funk is on and from the sounds of it I've got a kitchen dance party to join.
Where can music transport you today?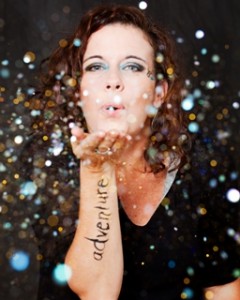 Interested in having Erika's blog come directly to your e-mail each Tuesday? Have comments to share? E-mail her at erika@tlpnyc.com. Find all her previous blog posts at www.tlpnyc.com/author/erika