A woman I didn't know died last weekend and I feel so, so sad about it.
She and I grew up in the same hometown, attended the same high school, and even attended the same college. She was four years my junior so our paths never crossed. She has four beautiful children. She battled cancer for nearly three years before succumbing on Sunday.
Her name was Kara Tippetts. She was a woman of incredible faith, and used that faith as an example for others on how to live, and die, well. She had a blog called Mundane Faithfulness that allowed us all into her journey, writing nearly to the last. And while the end of this story has been inevitable for quite some time now, and while the end of the story has in fact been the point of her message of Grace and of God… well… I think I still kept hoping for some kind of different end. Some kind of surprise turnaround. Something, anything, other than the message that was posted on Sunday. And while those as strong in their faith as she was in hers call it a homecoming, and while she urged us all to see the beauty in what comes after our life here on earth, all I could think to say was "Damn."
I don't share the same journey of faith that Kara did, but I'm still changed because of her story, and the fact that she chose to share it. Here are some of her words:
"How do you face the "hard" in your life with grace?"
"I have today, and in this today I get to live well."
"Cancer has taught us to live intentionally, that each moment matters."
"I am choosing a soft heart instead of bitterness and anger."
I read about her passing on Sunday night after the kids were asleep. Yesterday morning I got to wake up and hug them both, and breathe in their morning scent, and send them off to their day; I got to kiss my husband goodbye; I got to see my mom; I got to listen to the sounds of a fierce wind outside and a hard rain. I got to drink coffee. I got to live. And in that living I was so mindful of what Kara's family and friends must be going through, facing their first day of her on the other side of life. I kept fighting back tears, thinking about hard it must be for them. Later in the day I saw a post written by author Anne Lamott that said in part "Life is impossible. I wrote in Small Victories that life is so lifey, but that is going too easy on it. One synonym for God, besides the big Three--Love, Light, Mind--is life. Capital L Life, life not squandered, awakened Life, as in, you-must-be present-to-win life. But you'd think that with such illustrious meaning to the word, there would be a better system in place. This one can really suck."
Yep, Anne. This one really can suck.
But then I started to think about how Kara demonstrated the supreme beauty in dying. When she stopped treatments and entered the path of hospice she wrote: "We live by degrees and now I'm learning how we also die by degrees, and in it all there is beauty."
As my head and heart were grappling with the power behind the story that Kara chose to share with us, to let us in some ways experience with her, I stumbled across a new piece by an artist that I love, Kelly Rae Roberts.
"She took flight into a life filled with peace, grace, joy, and light."
A life filled with peace, grace, joy, and light. What can be more beautiful than that? How are we approaching every moment with the intention to see the beauty that surrounds us and to love as fully as we possibly can? In the midst of the easy times and also in the midst of the sucky times.
Faith or no faith, that is the message that Kara wanted us to hear, and I heard it.
How are you living with intention, and with love, today?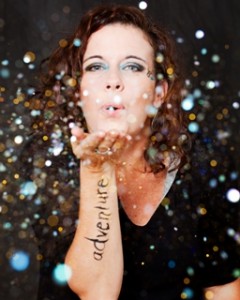 Interested in having Erika's blog come directly to your e-mail each Tuesday? Have comments to share? E-mail her at erika@tlpnyc.com. Find all her previous blog posts at www.tlpnyc.com/author/erika