Our house, like many I would imagine, has floorboards that run the length of the walls of every room. I discovered them this past weekend. I also discovered that they aren't, in fact, supposed to be black. Or fuzzy. The black fuzzy décor is actually built up dust, dirt, and grime from lack of attention. It turns out that the floorboards have been patiently awaiting my attention for longer than I care to admit.
Perhaps you know this already. You might be one of those people who actually moves your large appliances to clean around and behind them. You probably understand that blinds really should be dusted more than twice a year. I imagine you are in the leagues of housekeepers who doesn't consider Clorox Wipes as the only essential cleaning product needed for any surface in your house. To you, I bow. To you I say WOW. I mean, truly.
Because, I have mentioned my lack of housekeeping abilities before, but this weekend, as I found myself apologizing to every unexpected guest that came over to play—warning them to be careful not to trip over the upended Lego box, the spilled toolkit, the leftover art supplies, the random goldfish and fruit snacks, the abandoned cardboard box, the half-completed puzzle, the piles of unfolded laundry, and yes, the cat throw up—well, it occurred to me that perhaps things have gone a bit too far.
And then there's this—my daughter had an eye appointment recently and the doctor discovered she has allergies—whether they are seasonal allergies or allergies relating to pet hair or something else couldn't really be determined.
I'm no rocket scientist, but perhaps the black fuzzy floorboards have something to do with it.
So today I'm arming myself with more than a box of Clorox Wipes, and I'm declaring it GAME ON with this house. Only one of us will come out the victor, and I'm determined for it to be me. A sparkling house with sparkling windows (really, you need to clean both sides of the windows?) and sparkling floors and toys perfectly placed in every perfect container! Fresh flowers on the table and a healthy dinner cooking in the oven! It will be a picture of healthy clean perfection, and I will take an actual picture of it, too, so I have evidence that it really happened, at least one time.
Because then the kids will come home and real life will begin again. Life that involves so much more than just me alone with my bucket of cleaning supplies. Life that involves snacks and games and paint. Life that says, "yes, the blinds need to be dusted, but your daughter currently wants her face dusted with fairy glitter." Life that says, "yes those toys should be put away but your son wouldn't be able to build a train out of a book, a chair, a toy guitar, a set of Legos, a pillow, and a fire truck if everything was put away, now would he?"
So while this past weekend reminded me that I need to probably pay a bit more attention to the floorboards and the cobwebs, and that we should probably put something away sometime, my children perpetually remind me that, in the end, it's not the picture of the pretty house that matters the most.
(But I will keep the picture of the pretty house on my refrigerator so that I can show people that I do know how to clean and that I did do it ONE time.)
Do you have blinds that need dusting and faces that need dusted with fairy glitter? How can you balance your obligations with your opportunities today?

This week's blog is a part of Glennon Melton at www.momastery.com's Messy, Beautiful Warrior Project — To learn more and join us, CLICK HERE or visit http://momastery.com/carry-on-warrior to read the many other wonderful posts. And to learn about the New York Times Bestselling Memoir Carry On Warrior: The Power of Embracing Your Messy, Beautiful Life, just released in paperback, CLICK HERE!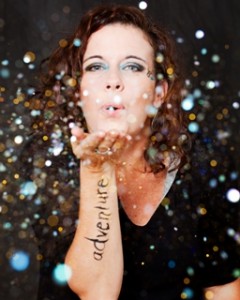 Interested in having Erika's blog come directly to your e-mail each Tuesday? Have comments to share? E-mail her at erika@tlpnyc.com. Find all her previous blog posts at www.tlpnyc.com/author/erika