This is my 100th blog entry. I know that for many of you more seasoned bloggers and writers this fact makes me still an infant in a world of elders, but for me that number seems significant. That number makes me go WOW. I've had 100 things to talk about! Even though I've really probably only talked about five things twenty different ways. It's okay; those five things are really important. I posted my first blog entry in March of 2012. That's over two years of finding twenty different ways to talk about those five really important things.
When a person turns 100 it is typical to celebrate by reflecting on the legacy they've created during their century here on earth. It only seems fitting, then, to reflect on the "century" of blogs that have been posted here. Not by reflecting on the legacy they've created; that would be presumptuous and downright silly. But instead I'd like to reflect on all that has been contained within this "century." For example, my son was not yet one-year old when I first picked up the pen… and last month we celebrated his third birthday (and update from last week's potty wars: He's DOING IT! ALL THE TIME! Just number one, but hey—we are getting there). He has transformed from a baby into a walking, talking, peeing, joke-telling, singing, hellion of a little boy. One who says "Let's Rock N Roll!" when he's ready to go.
Beyond that, my daughter has gone from a not-quite four year old to a days-away-from-turning-six year old, who just completed her first year of kindergarten. Who knows how to read. Who sings at the top of her lungs and protects her brother from perceived wrongs. In the midst of this "century," we've lost two pets, moved one office, and seen countless national tragedies, both natural and man-made. We've tried to understand what the fox says and what twerking is. We've gained the soundtrack to "Frozen." We've seen former students grow into successful young adults. And some things haven't changed one bit. I still have too much to do, my house is still messy, and bedtime is synonymous with "whenever the kids go to bed."
When you reflect on the passage of time, whether it's a literal century or a collection of 100 blogs, it is remarkable to realize how much happens within that time—so many big things, of course; but countless more little things, those seemingly insignificant things that add up to everything that is most important in this world. This blog, for me, is a way to capture time—to mark down those small moments as a reminder of just how remarkable they actually are. And hopefully, by finding them to write about each week I am also becoming more mindful of how extraordinary life's littlest moments are when they actually happen, not just when I reflect on them a "century" later.
Like this: my son woke up this morning and came looking for me before I had the chance to hop in the shower and get a jump on the day. So we sat on the couch quietly as he fully woke up, him curled in my lap and me… not thinking about how my lack-of-shower-time was going to impact the whole day but rather thinking about how holy something as simple as this is—him curled into me; me holding onto him as he gets a jump on his day; the house reverently silent. No shower or sweet-nectar-of-life-cup of coffee can even come close to that.
So whether celebrating a 100th birthday or a 100th blog entry or simply another gorgeous Tuesday, I offer a toast to all those moments. I offer a toast to mornings and meetings and dinners and business trips. To wasps and t-shirts and sock monsters. To sort-of shark attacks and ghost stories. To first cars and fireflies and to-do lists. To mini-vans and milestones. How extraordinary, this ordinary life.
Are you paying attention to your moments?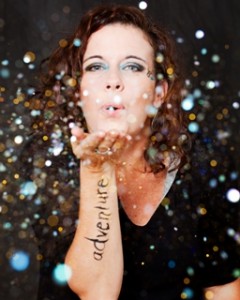 Interested in having Erika's blog come directly to your e-mail each Tuesday? Have comments to share? E-mail her at erika@tlpnyc.com. Find all her previous blog posts at www.tlpnyc.com/author/erika