My children's school just had their annual Spring Fling: a weekend filled with face painting and games and treats, along with a silent auction of all sorts of goodies and baskets up for the bidding, with the proceeds going to a few wonderful charities. Last year my daughter locked in on the basket of her dreams—a splash of pink and black and sparkles, so I put a bid in. When our name wasn't called, she was devastated. Truly, she wept the entire car ride home. She just couldn't understand why we didn't get the basket, and it took her weeks to get over.
This year, I was determined not to let that happen again. We strolled through the aisles, and I asked her to name a few different baskets she liked. She picked a few, and then of course found THE ONE that she wanted above all else—a little "rock star" basket with a toy guitar and microphone. I figured I would bid on several things, hoping that we might get lucky with one. The whole time I was overemphasizing the uncertainty of it all, reminding her that just because we bid on something doesn't mean we get it; telling her in fact that we most likely wouldn't get anything, and that was okay. She seemed to understand, but I was still half-tempted to skip out before the winning numbers were even called.
But we stayed, and when it came time for the winners to be announced, a sheet was placed outside the auction room with all the winning numbers. And Lo— our number was there! I happily told my daughter that we had won something, and she practically jumped out of her pants in excitement. We ran into the room and waited in line to find out which of the baskets would be our lucky one. When we got up to the front, the scene went something like this:
School: Erika, what was your number?
Me: 64
School: Oh, yes! 64! You won three baskets!
Me: (blink, blink) …3 ?
Daughter: THREE?!?!??! (fainting with the joy of it all—truly, it was like she had just one the $400 million jackpot. I thought she was going to burst out of her skin.)
Watching my daughter literally skip down the hallway of the school, clutching two of her new treasured baskets tightly to her chest (including the rock star basket), declaring proudly to everyone she walked past "I won three baskets! I won three baskets!" I marveled at how different the scene was from just the year before.
Apparently, this auction thing can go both ways. You can walk away empty handed, or you can walk away with much, much more than you budgeted, I mean bargained, for.
Somehow this feels kind of like life. You win some, and you lose some. It can be tempting to just skip it altogether—to avoid the pain of losing, we simply don't jump in. We skip the auction. But to that I say, if you don't risk the horrible pain of walking away empty-handed, you will never know the exquisite joy of having your arms overflowing with more than you ever wished for.
How can you "get in the auction" today?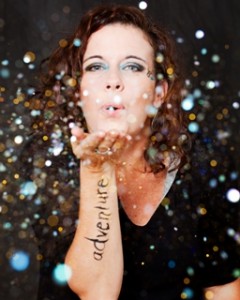 Interested in having Erika's blog come directly to your e-mail each Tuesday? Have comments to share? E-mail her at erika@tlpnyc.com.