In the early 90s my college roommates and I traveled to see the first ever "Lollapalooza" rock concert. For those of you not familiar, Lollapalooza is a day-long outdoor summer concert filled with many popular bands: In this inaugural concert, performers included Pearl Jam, The Red Hot Chili Peppers, Ice Cube, Ministry, and more.
We had booked a room at a local hotel, nothing fancy at all, but as luck would have it, it was somehow also the temporary home of all of the concert performers. We rode the elevator with Anthony Kiedis of the Red Hot Chili Peppers. Members of the band Ministry were in the room right next door. There were also plenty of groupies. Scantily clad, perfectly primped ladies roamed the halls and tried to look nonchalant in the lobby. We were excited to be in this hotel, thought it quite fun to be among celebrities, and looked on at the whole groupie thing with a bit of detached amusement.
The concert itself was great fun, but in the Midwest July heat, we were quite a sight by the end of it. Afterward, we went back to the hotel and took a swim. Then we took to the hotel lounge and lobby to marvel at the groupies.
After awhile, a very large fellow came over to our table. Turns out, he was the personal body guard for Ice Cube (now known more for his family movies, back then he was in his gangsta rapper heyday). The bodyguard leaned in conspiratorially and said: "Cube wants to get witcha."
I'm not kidding.
I leaned over Mr. Bodyguard's voluminous frame and spotted, about 20 feet away, Mr. Ice Cube himself, studying us intensely, waiting, I assume for the response. The most clever response I could muster, to the best of my memory, was "I don't get with people." We started chit-chatting about other things; eventually, Ice Cube lost interest in waiting for us and disappeared (I am sure he was able to find many a willing companion for the evening). Meanwhile, my roommate and I ended up hanging out with the bodyguard for most of the night..
One of the most remarkable things about this story to me is the hotel lobby was packed with women who had gone to extraordinary measures to look their best, looking for a date with destiny. On the contrary, my roommate and I had come straight from the all-day outdoor concert, to the swimming pool, to the hotel lobby. I can't imagine I looked what I would have considered in any way appealing. And yet. And yet.
So, now, "Cube wants to get witcha" has become one of the favorite lines of my life –a ridiculous memory of an impossible moment, and a perfect reminder that life is full of surprises. Sometimes what you think people want they don't in fact want at all. Sometimes you're confronted with a choice completely outside the realm of"normal." Sometimes, with life, you just never know.
Are you open to imagining the scenarios beyond what you assume?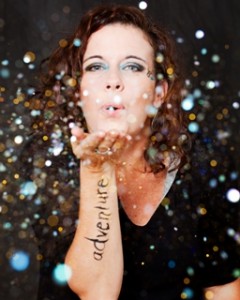 Interested in having Erika's blog come directly to your e-mail each Tuesday? Have comments to share? E-mail her at erika@tlpnyc.com.