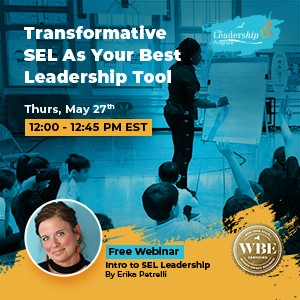 Webinar
Transformative SEL
If you work with students, this webinar is meant for you.
"Social emotional learning (SEL) is defined as the process through which children and adults acquire and effectively apply the knowledge, attitudes, and skills necessary to understand and manage emotions, set and achieve positive goals, feel and show empathy for others, establish and maintain positive relationships, and make responsible decisions."
The definition of Social Emotional Learning has changed and expanded to reflect the current and necessary conversations about educational equity and the empowerment young people and adults to co-create thriving schools and contribute to safe, healthy, and just communities.
This webinar will review:
Guiding Questions For Social and Emotional Learning & Leadership
How can the work of SEL transform your approach in your classrooms? What other questions can you be asking?