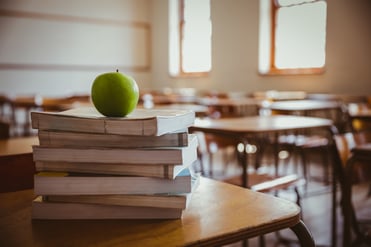 I fell in love with my husband all over again at our first parent interview at one of our daughter's prospective schools. Now that she is at the pre-k age, we have started the whole process of school applications. Amidst the required information, school zone determination and required paperwork, I would never have imagined to experience such a poignant moment before her first day of school. This is our school search story.
We had many debates over the merits of public versus private, charter versus independent, and even contemplated home-schooling. However, the fact that we had the opportunity to have one of us stay home with her for her first few years, along with our more casual approach to parenting, left us a little behind schedule when it was time to join the race for space in urban education.
Since the range of schools we are considering vary greatly, so do the most important questions we have to consider. First was general information: What zone are we in? How big are the classes? What is the ratio? What languages do they teach? How much can we afford? Second was cultural: Is it diverse? What is the school climate like? How is the parent engagement? Third was personal, and directed at us: How do you describe your child? What are her strengths and weaknesses? What do you want her education to look like? What was your education like? How did it impact you?
As we replied to each round of questions, I felt like we were digging deeper into our family's foundational core. All of the questions led us to define (and re-define) what our values are, and how we would be able to create opportunities for our daughter to learn those values in her life as well.
The school search inevitably led me to my first public school tour as a parent. A well-dressed parent coordinator welcomed me warmly. PTA volunteers bid prospective parents good morning as we checked-in at the registration table on which hot coffee and freshly-baked bagels are offered. I found my way to a seat while a Powerpoint presentation was projected on the main stage of the brightly lit gleaming auditorium.
Most of the presenters and all of the tour guides were former and current parents, a living endorsement for the school's standards and performance. As we walked the halls, I learned even more: Blue Ribbon winner, jazz, drumline, and violin for all, robust arts and academics, big classrooms, supportive of all students' needs, robotics, chess and mandarin for after school. A step into the the pre-k world of little toddlers leaves me even more surprised—cardboard fortress and play tents, sensory tables, family trees and salvaged limbs turned into play forests. And it's free. What more could I ask?
More. Lots more.
Even with all the merits of that school and all the others that I had the honor of visiting, the school search is about finding the connection between a school and your family's values.
The last stop on the tour was the music room. I found out that all children there learn how to play violin. As I looked over the rows of multicolored baby violins, I understood that finding the right school is like falling in love again. It must pull on your heartstrings.
For this weekend, this is my pick for creating a family moment. Check out the Kid's Food Festival
Have any tips for an effective school search? Have your own school search story? Share below.
---
"Plucking Heartstrings: A School Search Story", The Leadership Program, Inc. 2016