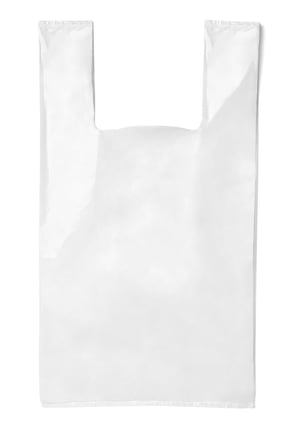 Now that Spring is here, I'm looking at the sky and the trees again, waiting for birds to fly by and buds to flower. I patiently wait searching the bare limbs for some new growth. And while nature takes its time, I have noticed that many a tree limb is shrugged with a plastic bag or two, carried and abandoned by some wild wintry gust. There are so many trees that bear plastic garlands and I find myself trying to plan a rescue mission for them.
As much as I want to climb trees and free their arms as they stretch into the season, I don't think I'm quite cut out for that kind of operation. However, it has made me think of what problems of a similar nature I can try to solve. I have been toying with the idea of going completely plastic-less. Not a novel campaign, right? You see it everywhere now, with stores like Whole Foods and Target actually rewarding your efforts with a 10 cent discount off your purchase. I already bring a tote bag or two with me wherever I go, use my plastic bags for garbage disposal and "pet care", employ re-usable snack and sandwich bags, etc. Can I live a life without plastic?
When I was in my childhood home in the Philippines recently, they would keep every re-usable plastic bag they could find. Actually, they kept everything that was re-usable. As I walked around my home, I went into my childhood garden that had been ignored and become a bit of a junkyard. I thought I was going to wander into a jungle of overgrowth and was pleasantly shocked to find that they had turned it into a vegetable garden. Right next to broken pots, and bits of plastic and cracked old Cds, they grew beds of okra, corn, tomatoes, peppers and local greens.
The inhabitants of my home grew what they needed because they couldn't live without food. Everywhere on the property were examples of upcycling as a means to survive, subsist and soar. I found a set of homemade dumbbells on the patio made from an iron bar and two empty paint cans filled with cement. Some of the wind chimes on the balcony were replaced by rusty nails. Old shirts were turned to rags, the cutting boards were literally slices of fallen trees on our property, and even rain was the source of our drinking water. And this is all in a modern city. And without ever hearing the word recycling before. Actually, that word doesn't even exist in my dialect.
They had shown me such examples of how necessity can cultivate creativity. So it seems obvious that the reverse can be true: creativity can cultivate un-neccesity. So as we approach the launch of Earth Day this weekend, I hope you can ask yourself what problem you might be able to solve in this world.
For Earth Day celebrations starting this weekend, go to http://earthdayny.org/2015-events or http://www.nycgovparks.org/events/2015/04/19/earth-day

Talk about sustainability! Check out the Patagonia Spring 2015 Worn Wear Tour http://www.patagonia.com/us/worn-wear
For toxic things you don't know what to do within NYC, http://www1.nyc.gov/site/dsny/recycling-and-garbage/residents/safe-disposal-events.page
For a creative look at recycling automobiles, take a free look at Mangled Cars at http://hyperallergic.com/195122/mangled-cars-and-sleek-architecture/
And for a look at into the future by gazing into the past, catch a Gazing Globe before it goes away this weekend at http://www.madisonsquarepark.org/things-to-do/calendar/mad-sq-art-paula-hayes