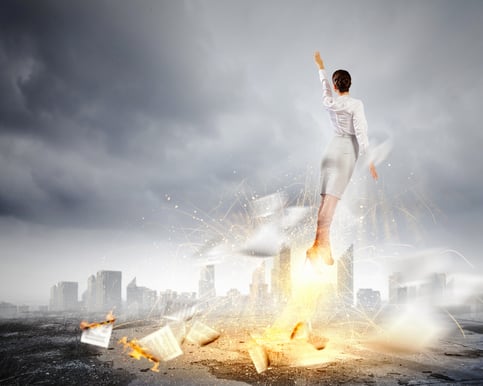 In "Finding My SuperHERo", Ana shares her method for activating the caped crusader that lives inside all of us.
I was headed for a night out in the West Village recently, and feeling a little less than fabulous. Not having been out for a while, my social confidence was a bit low, and actually edging closer towards the feeling of ridiculousness in my sequined harem pants and red leather wrap.
Just one block away from my destination, I was waiting to cross the street and noticed I was in a demarcated area marked: ACTIVATE your Superpowers HERE. I giggled to myself as if i just discovered a secret. An imaginary switch was triggered at my feet and a surge of energy traveled through my entire body. I had become electric. I was ready for the evening's adventures now. After all, I was wearing a red cape.
But what if I wasn't wearing a red cape or sequins, and what if i hadn't found the anonymous permission. How would I have found my confidence?
My daughter might know the answer, as she has recently declared herself an "official official superhero big girl" for finding her independence from her beloved pacifier and the need for diapers. Yet her understanding of how to unlock one's potential was clearer to me as we drove down the street and she started pointing to random people, and saying "she's a superhero, he's a superhero, there's another superhero", and so on. What could she already know in her young age about affirmations and self-confidence?
Whether at home or in school, i started to wonder about how we instill self-confidence in girls at such an early age. Here is my formula for finding a superhero:
* Discover an Archetype – Whether it's a set of grandparents, a historical figure, or a fictitious character, learn about the qualities of a leader archetype who can serve as a role model.
* Acknowledge Acts of Awesomeness – In the everyday and extraordinary, acts of kindness, courage, and compassion should be praised and reinforced.
* Unlock the Code – Genetic that is! We are each engineered with our own specific strengths and skills based on our genes. This is what partially makes us different and special. Find out if you're born to swim or sing, and unlock that gift.
* What's the U in Unique – While genes are part of what makes us unique, there are other non-physical characteristics that make each person special like empathy, generosity, compassion, etc.
* Know Your Kryptonite – A superhero isn't untouchable or free from weaknesses, but they know what those are and build up their resilience and strengths to protect themselves.
* Find Your Superhero Symbol – A power symbol can serve as a point of focus or reminder of the hero within. Identifying a symbol can make the transformation instant when needed like when a little girl feels like a princess the moment she sees a crown.
* Get A Cape!
–
Every superhero has a costume! Find the style that supports your needs and spirit so you can step into your power. And if you can't find an outfit, it can always be invisible!
So there it is: my secret formula. Try it with yourself or with your children! In the meantime, I will be helping my daughter and our young women find their own superhero within.
Have any tips for unleashing superhero potential? Share them below!
To help the young girls in our school find their confidence, take a look at our Young Girls Empowerment program called HERstory.
---
"Finding My SuperHERo: Unlocking Your Potential, with a Cape", The Leadership Program, Inc. 2016