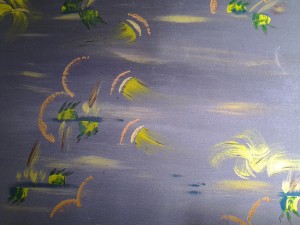 I'm mad.
Okay, not really mad but a little overwhelmed by the number of days it has snowed this winter season. And knowing that we have 4 weeks until spring, and the possibility that it can snow again makes me... overwhelmed. I'm not feeling too creative lately. Instead of going to see a performance, or maybe check out an exhibit at a museum, all I want to do is stay home where it's warm and dry. But I get bored easily. These are the times when I can do those sweet little projects at home; something creative that will keep my hands and my mind busy while at the same time warm my heart. Enter Leadership Trainer Uniqua Simmons. Dance and fitness instructor and visual artist. I have had the opportunity to see her work over the years, and I am particularly impressed with her ability to transform everyday items into art. She is one who inspires. So maybe, on this or another snowy day when I refuse to venture out too far from home, I will create art with the materials I have at my fingertips.
Maybe I will start with snow.
Uniqua Simmons: Afiya Dance and Fitness, Zumba Fitness Instructor, Visual Artist.

Make art that lasts… let go and make art.
I've been creating and making art since I was 10 years old. My first experience was at camp. I made a papier mache bowl and sewed a cloth, stuffed animal by hand. I was hooked on making art! I wanted to create art from everything. One of my biggest passions is teaching and sharing Art. Seeing myself and others inspired and open to expressing themselves without boundaries! This is why I created the blog Art M.A.D.N.E.S.S. ( make art diverse, necessary, environmental, sustainable, selfless). When art is selfless everyone can create, enjoy and share their own experiences. The possibilities are endless! Using recycled materials is one of my best resources to create from. You can make art, save lots money, and help the environment.
Speaking of environment…when is the last time you created environmental art? The next time it snows, make a snowman! My next project goal is teaching a DIY class at the Folk Art Museum in Manhattan. Stay tuned. Relax and make art.