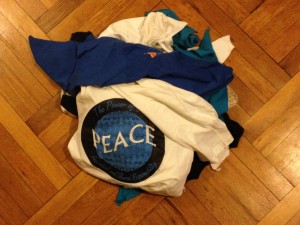 I loved my high school.
There are times I hear others speak about how they would never go back to those year, but not me. I attended the High School of Fashion Industries and loved every moment of it. I majored in fashion design and illustration… which, at that time, was my true love.
I loved being able to look at yards of fabric and in a few weeks it was a beautiful garment. Or looking at a blank page or canvas and transforming it into my art.
I remember traveling on the train to and from school five days a week, intensely looking at the person sitting across from me, memorizing distinctive features so that I could stay up all night, sometimes until 5 in the morning, trying to recreate the face that I had seen. It got so bad that my friends would tell me to stop staring at people, it was impolite (that was before folks got into major trouble for looking too hard!).
I loved those years because I was constantly challenged. My teachers were constantly asking me questions?
"Who are you? What is your talent and what do you love to do?"
I love to make things, specifically things that genuinely reflect me. They are my private "wink"… a little something that will make me smile, laugh, or question. It matters less whether anyone else gets it. (Although I hope you do.) What is important is that I continually stretch myself, take a fresh look at who I am artistically and do something to reflect where I am currently.
A friend asked me (but I took it as a fun challenge) to make something from a T-shirt for this month's blog. What a great idea! Traveling from school to school over the years I have accumulated a number of T-shirts. The thing is, I'm not much of a T-shirt wearer. So what a great opportunity to cut them up and make them into an outfit! I must admit, I got a kick from cutting up my stash of tees and sewing them together, piece by piece, until they became a new and fresh piece of art! I had fun. And I loved every moment.
My question to you is "What is your talent and what do you love to do?" If you are like me, you have a few, and sometimes you need to hear an idea from another in order to give a little extra time to the things you love to do. So today, I offer you this challenge.
Make something.
That's it. Make the thing that you love. Make music, make food, make art.
And I hope you will take a photo and share it with me and the rest of our readers. I look forward to hearing from you!